Taking The Jeep Cherokee Off Road
The Jeep Cherokee off road machine in various configurations has been around for some time now.



At least since the XJ's inception in 1984.
Initially underpowered the Cherokee XJ later got the near bullet proof 4.0L straight six cylinder engine in 1987 which stayed the preferred choice until the XJ's demise in 2001...when by 2002 all Cherokees simply became "Grand"...with the XJ moniker going bye-bye.


Jeep Cherokee XJ vs. All Other
Jeep Models for "Best Buy" Crown!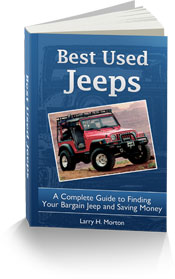 The XJ Cherokee is most often found with the production automatic transmission mated to the 4.0L six, however there are a good number of them using the 5-speed manual tranny's...and some 2.5L 4-cylinders can be found as well.
The front and rear axles/differentials on the 4x4 XJ's were primarily Dana 30's and Dana 35's respectively.
Initially designed as a mid-sized SUV-type vehicle (the term "SUV" hadn't been coined yet) the Jeep Cherokee was produced in two-wheel and 4-wheel drive models with both selling quite well over the years.
All Cherokee XJ's are of the "unibody" construction which simply means they don't have a full independent frame to which the body attaches separately. Instead the body and frame are integrated as one...unlike the Wrangler and all other "universal" Jeeps which sit on full frames.
Comparing the venerable Wrangler's or early CJ's with the Cherokee XJ would be apples to oranges, especially in the category of trail Jeeps and off road prowess...however versatility is where the XJ shines through often head and shoulders above the "Universal" Jeep styles.
Whereas the Wranglers and CJ's are out-of-the-box designed as off road Jeeps...they inherently lack a significant amount of functionality in cargo space and street manners.
Don't get me wrong here...the newer Wranglers have received tremendous improvements in both of these areas...especially with the longer wheel-based "Unlimited" models.
However, up until these recent improvements nothing in the Jeep line compared to the Cherokee XJ's ability to transform from a great street daily driver..to a weekend off roader..to an all out desert racing machine..and often back to a daily driver again.
Now that's versatility in a nice neat little package.
The 4x4 Jeep Cherokee off road setup can be as simple as maximum recommended tires (no lift), heavy duty shocks, cb radio, and a couple of extra driving lights.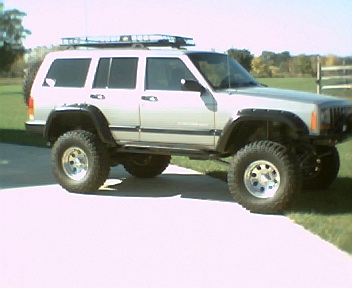 Jerry's Built 2000 Cherokee XJ...Click Photo to Read More


Now the beauty is that the XJ can be taken as far as your wallet and off road expertise will take you...all the way to:
a super suspension lift kit,
bigger more aggressive tires,
bead lock wheels,
body and undercarriage armor (especially for rock crawling),
heavy-duty roof racks,
spare tire carriers,
aftermarket off road bumpers,
heavy-duty front winch,
full interior roll cage, and...
Engine mods from free flow (cool air) intake systems and exhaust systems to all out high performance engine swaps with beefier transmissions, transfer cases and axles/differentials.
Note: The Jeep Comanche MJ pickup shares most of the same platform and drive-train parts as its sister the "XJ". So the Jeep Cherokee off road potential applies to the Comanche Pickup (1986 thru 1992) as well.


Below I have compiled several action videos of Jeep Cherokee off road machines ranging from mostly bone stock to full-bore racing rockets...and various rigs in between...including those amazing rock crawling rigs.
I don't know how you will react, but when I viewed these videos I thought to myself...these Jeep Cherokee off road rigs can do anything a Wrangler can do!
See if you agree...enjoy!



Cherokee XJ's Tackling the Arizona Desert (2 mins.)
Jeep Grand Cherokee Overland Doing the Deep Snow Dance (1 min. 21 secs.)
Catch the Launch, Air and Landing of this Cherokee XJ (49 secs.)
Good Straight-on View of XJ Racer Tearing up the Desert Road (20 secs.)
How NOT to Treat an XJ...Even if you Don't Like Jeeps (4 mins. 9 secs.)

The Jeep Cherokee Off Road mods also can be utilized on the Comanche MJ Pickup

Jeep Grand Cherokee Page!

Select Jeep Action Videos Page!

Show Off Your Jeep at Your Jeep Page!

What's Your Favorite Jeep of All Time...Tell us Yours and See Mine Here!

The Jeep Liberty Replaced the XJ Cherokee in 2002...Good Move?..Or Not?...Find Out...Click Here!

Are Older Cherokee XJ's and Grand Cherokees a Bargain in Todays Used vehicle Market? Click to Find Out!



Custom Search
Doing a site search is the easiest way to find specific info on my site
Home|About|Site Map|Contact Me|What's New?|Disclaimer
Hi, this is Larry..the author of this website. I know you hear a lot about how to build an online business...but nothing compares to what you will see when you click the box below. Proven simply the best!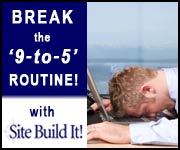 Jeep Cherokee Off Road