Jeep Liberty Diesel: Coulda' Been a Contender!
The Jeep Liberty diesel engine was available for the model years 2004 through 2006.
The CRD or Common Rail Diesel could not meet the stringent United States standards for emissions set for 2007 due to the inability to produce diesel fuel with low enough sulphur content to meet new American EPA standards.
Therefore the highly efficient and functional little diesel power plant was scrapped from the Jeep Liberty options list starting in 2007.
The 2.8 Liter CRD four cylinder diesel cranked out 160 horsepower @3,800 rpm..and had its torque rated at 295 ft-lbs at 1,800 rpm. This little German engineered turbo jewel had a double overhead cam, cast iron block and aluminum head. It had direct (EFI) fuel injection and was capable of 27 to 30 miles per gallon on the highway.
The Liberty diesel sold well even though there were a few recalls including automatic transmission issues..among others. (The automatic transmission often could not handle the high torque of the diesel.)
Used Jeep Liberty's with the CRD engine are in demand, and those who own them are usually quite satisfied.
Diesel engine technology is used extensively in Europe where the customer can get an automobile/suv (non-semi) and also enjoy good to excellent gas mileage without the sacrifice of power.
Hopefully the EPA will stop handcuffing the U.S. auto makers with more and more ridiculous restrictions and allow the efficient diesel technology already available, as evidence by the Liberty CRD, to benefit the driving public here.
So I say...bring back the Jeep Liberty Diesel...and while they're at it...stick one in the Jeep Wrangler as well!
Note: As of this writing the 2014 Grand Cherokee currently has an optional Eco-diesel engine (not the CRD in this article) available in the United States. If this works out, this or a similar diesel engine may become available in future Wranglers as well as other Jeep models.
The Liberty model has also been discontinued.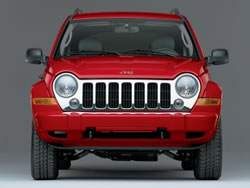 Custom Search
Doing a site search is the easiest way to find specific info on my site

(Return to Top of Page...Jeep Liberty Diesel)