My 1st Jeep With All the "Goodies"
by Kristin
(Yukon, PA)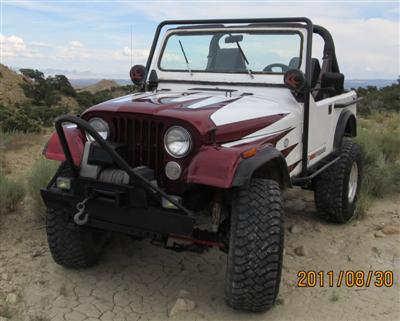 My experience 4-wheeling started as a child. My dad would take us all out into the trails in SW PA where I grew up.


The 1st vehicle I remember was a shiny new IH Scout soft-top. It was white with black/tan accents and black roll bars. I loved that truck. I am now 41 and have yet to see another Scout like that one! I will never forget the fun & excitement of climbing those hills!
When I was in my early 20's, I bought a red Wrangler YJ but never had a chance to "do it up". I was going to school and living in the city so that Jeep stayed pretty much stock except for the aggressive-looking BFG's that came on it.
Later on I owned a black Jeep Cherokee Sport XJ that I liked, but it was just like all the other trucks I had owned over the years (I don't think I've owned a car since I was about 20). I missed that open-air feeling and the "fun"!
So, while working in SE Utah for the last year and a half, I spotted and fell in love with an '85 CJ7 that was put together by a professional shop. (Even though I had been putting my money into my black '01 Chevy Tahoe with 3" lift, 33" Wrangler Duratracs, 17" XD black/machined wheels and was just getting quotes for a 6" lift!)
My CJ7 has all kinds of goodies. The 258 I6 was switched to EFI, and it was lifted with 35" Hankook's, Eagle Alloy
wheels, has a split transmission. The axles were built with Dana 44 internals. It also has an aftermarket air intake and exhaust system, Warn winch, manual hubs in front, and it has an original hardtop with the full steel doors, as well as half doors.
The owner gave me some new parts that need to be installed, but nothing major. The driver's side Superwinch hub needs replaced as well as a new ignition (starts w/o a key!). Also, the passenger-side U-bolt needs replaced and air filter cleaned and oiled.
My brother is in auto body repair so when I head back to PA (towing the Jeep) at the end of the month I plan on tearing out the carpet and laying down a coat of black Durabak, getting a gun-metal gray paint job with black roll bars, and black Corbeau seats. Also want a soft-top and some kind of orange accenting (maybe a sideways racing stripe across the Jeep where the hood vents are? Any ideas out there?
Sooo, back to being a "Jeep girl". I think TRUE Jeep girls have no problem going out and getting muddy with their guys in their own rides (or even with him!) and not crying or whining about being dirty!
Maybe we grew up tom-boys in the country, but we can also get dressed-up and be the feminine girls we are! We don't just buy a new Jeep off the lot that never leaves the pavement!
I just know I'm a Jeep girl because JEEPS=FUN!!!
Thanks!
Larry's Comment: Nice looking CJ7 there Kristin! Thanks.