Project "Cherocon" (Part 2)
by David Beran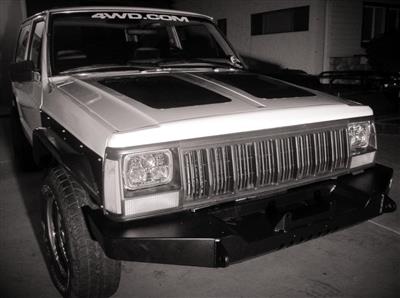 "Cherocon"
Building the Ultimate XJ (Part 2).


Also, check out
Cherokee Rubicon "Cherocon")
(Part 1).
Project Cherocon is the name Landon List gave his build that blends aspects of a Jeep Cherokee with a Rubicon. The project began when he needed to replace the axles on his JK Rubicon and decided not to put his Rubicon Dana 44s on the black market. In part one, we took a look at the progress Landon had made in realizing his dream to build the ultimate XJ.
The project is coming along well even though his progress was stymied by recently moving. "We're working on it and we're going to take it to the Johnson Valley for King of the Hammers and it will be at Moab's Easter Jeep Safari," says Landon. "My wife wishes I was spending more time working on the new house, but I'm working on the Jeep," he laughs.
Landon started installing the 5 ½" Long Arm suspension from Rubicon. "It went on with ease with my neighbor Daniel's help." They mounted the Pro Comp Xtreme MT2s on a set of 17" Method Race Wheels, and Landon's happy with the results. "This thing is going to be the baddest XJ ever built," he says.
Plans for the Cherocon include putting in a Rock Hard Cage that requires no bolting, drilling or welding. Protecting against a roll is a priority for Landon, especially when he's wheeling with his kids.
He also wants to add a Superchips Trail Jammer to improve drive-ability and a Magnaflow exhaust system. Finishing touches will include
Trek Armor Jeep Seat Covers
, and Grab Handles.
David Beran
is a Copywriter at
4WD Parts