The Jeep CJ2: I'll Have Mine Rare!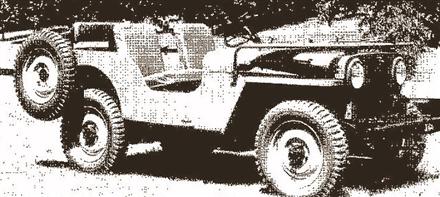 1945 Willys CJ2


The Willys Jeep CJ2 followed the CJ1 into production toward the end of World War II around 1944.
Note: Sketchy information exists relative to the original CJ1, but it appears that 2 were built by upgrading military MB Jeeps for testing purposes...and apparently neither has survived to be seen today.



However, the CJ2 was built as a totally new model instead of being an upgraded Military MB model such as the CJ1.

(Compare the Jeep CJ2 with the earlier Military Jeeps of WW II.) Willys-Overland set new specifications for the construction of the CJ2 and updated the body, axles, gears and transfer cases for the 4-wheel drive 1/4 ton ex-military champion.
This new Civilian Jeep was initially given the tag "Agri-Jeep" because Willys had been looking for a way to market the little specialty vehicle to a post-war public.
Since independent farming was still quite prevalent after the war, Willys initially marketed the CJ2 to farmers and those in other outdoor working environments. Hence the name "Agri-Jeep".
These farm ready Jeeps were designed to function like a more versatile tractor. Some had front mounted counterweights, PTO's (Power Take-Off drives), tow bars, post-hole diggers, plows and mowers among other equipment.
However, the agricultural angle didn't seem to catch on as intended, so Willys would have to rethink its marketing strategies if the Universal Jeep design was to survive in the civilian marketplace.
The Willys CJ2 Jeep was built from 1944 through 1945. It appears that only about 45 CJ2's were produced and less than 10 are known to have survived.
Now, for collectors...that's getting mighty Rare indeed!




The Willys Jeep Page!

Jeep CJ2A Page!

Jeep CJ3A Page!

Jeep CJ3B Page!

Jeep CJ4 Page!

Jeep CJ5 Page!

Jeep CJ6 Page!

Jeep CJ7 Page!

Jeep CJ8 Scrambler Page!

CJ10 Page!



Custom Search
Doing a site search is the easiest way to find specific info on my site