Jeep Hurricane Concept: Unbelievable!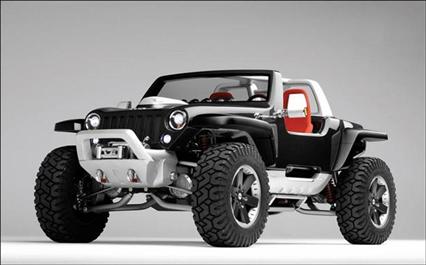 If you've never seen the Jeep Hurricane Concept Vehicle before...then you'd better hold on to your proverbial "hat".
This is undoubtably the most radical, awesome, futuristic and functional "Concept" vehicle EVER produced.
There have been some pretty wild looking prototypes of vehicles from various manufacturers in the past...however, they were often mostly "eye-candy" with a lot of cool body, ground effects and interiors...but usually on an already existing platform.


Then along comes the Jeep Hurricane in 2005. This thing looks and functions like something out of a Sci-Fi movie.
Trivia Question: What has two Hemi Engines...4-wheel drive and 4-wheel independent steering...has a Zero Turn Radius (can turn 360 degrees in one place)...can run on only 4 cylinders or up to sixteen cylinders at a time...and is light weight with high strength with unprecedented rugged off-road abilities?
Okay...that was too easy!
The point is...the Hurricane has all that and then some.
Each engine produces 335 hp and 370 ft-lbs of torgue giving the Hurricane 670 total hp and a total of 740 ft-lbs of torgue. The engines face opposite each other and can propel this Jeep Concept from 0-60 mph in less than 5 seconds.
The four wheel steering allows the Hurricane to make a complete turn in one place for as long as the driver wishes...and...can turn all wheels to the side to allow for "crabbing" or sideways movement. Talk about easy parking and/or getting out of tight spots...this is fantastic...especially in those off-road situations where you have no place to make a conventional turn around.
The Jeep Hurricane was built with a one-piece carbon fiber body and super safety structural armor for both the vehicle and it's occupants.
So...will the public ever get a crack at the Hurricane at some point?
My guess would be an emphatic "NO".
Why?
Because even with it's awesome looks and capabilities the Hurricane is not a mass appeal vehicle suitable for large public consumption.
The cost to produce and distribute such a vehicle would be enormous, and would only be feasible for a small niche market of enthusiasts.
Just to illustrate, compare the Hurricane to the Jeep Gladiator Concept Pickup which were both introduced in 2005.

Unlike the Hurricane, the Gladiator would be relatively inexpensive to produce because it already shares most, if not all of it's components with off-the-shelf pieces from the existing Wrangler Unlimited and Dodge Dakota Pickup.
See how the Jeep Hurricane compares to the Gladiator Pickup Concept Vehicle!

This is not to say that much of the innovative design and unique attributes of the Hurricane Concept will not turn up in other more mass market formats, or added to existing platforms such as the Wranglers.
After all...that is what R & D Research and Development are all about.
Still...........wouldn't it be really cool to have one?




Watch the Video...(4 mins. 10 secs.)



Jeep Gladiator Concept Page!

Jeep JT Concept Pickup Page!

Jeep Concept Vehicles Page!

Jeep Wrangler Unlimited Page!



Custom Search
Doing a site search is the easiest way to find specific info on my site