Jeep Lifts: Tall or Taller?
When are Jeep lifts needed? Is any safety sacrificed with a lift kit? What are the advantages and disadvantages of lifts?
As if most of the Jeep Universal models and some of the SUV styles weren't tall enough we have lift kits to raise them even higher. Why is that?
I don't Know!...
Just Kidding...
I really do know why.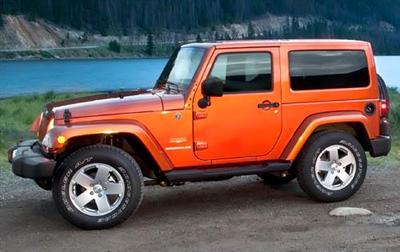 Wrangler at Standard Factory Height Only


Most all Jeeps, especially the CJ and Wrangler styles come from the factory with pretty good ground clearance...that is...the distance from the chassis, body and undercarriage to the ground.
Most street cars (er!...let me rephrase that) cars driven on streets, have bodies and undercarriages quite close to the ground for aerodynamics and safety at speeds. Cars, for obvious reasons are not designed for much off-pavement activity. Hence the low center of gravity and lower profile.
Jeeps, on the other hand are designed (depending on the model) for various driving conditions including heavy rain, mud, ruts, rocky rough dirt roads, snow and ice...you get the picture. Therefore, a good ground clearance is essential for those specific purposes.
Note: I have a tendency..if you haven't already noticed..to assume 4-wheel drive capability when referring to Jeeps, and to focus on the models which I believe are the most versatile such as the older Universal styles, Wranglers, old trucks, Cherokees, etc....those which tend to be used more often for a variety of functions other than just street use.
I also understand that Jeep makes other more civilized models in 2-wheel drive configuration, and some folks build these up to be pretty good multi-purpose vehicles. So, forgive me if I seem to neglect your rig. Much of what I say applies to most all Jeep models...with a bit of imagination.
So, here's the simple answer to the need for Jeep lifts. Bigger tires and higher ground clearance.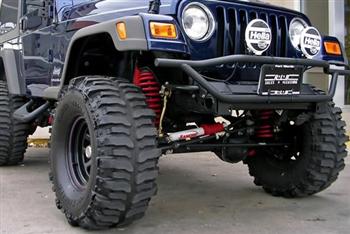 Professional Quality Suspension Lift on a TJ Wrangler


You can only stuff so much tire (and wheel) into a standard wheel well...at least without shredding the tire and/or tearing up sheet metal (or worse) when you're under way. Large tires may seem to fit fine until you hit a bump or make your first sharp turn. Then the tires make contact in places where they were not intended, such as fenders, the frame, steering components, etc.
Lift kits
in various types and elevations raise the Jeep's body and/or suspension to provide clearance for large tires as well as increasing ground clearance for improved off-road use.
However, some on-pavement capability and safety is sacrificed again due to increased roll-over and reduced handling issues. The taller the lift the greater the risk!


(Click here to see how Jeep Lifts relate to other Jeep Safety issues)


Tall CJ5 with Suspension and Body Lift Kits Installed




Raised Jeeps have more off-road capability than standard factory settings in that they are able to skirt larger rocks, ruts and generally rougher terrain. Also, suspension travel is improved on rough uneven surfaces to further improve function off-road. Jeep lifts can be purchased in various kits from a mild to radical lift height.
Some Jeep lifts are relatively simple and can be done in your driveway such as coil spring spacer lifts, add-a-leaf (for leaf springs), or body to frame spacers for a small body lifts.
Others kits are much more sophisticated requiring body, frame and bracket fabrication (i.e. welding and cutting), and will also require longer shock absorbers and brake lines, altered drive shafts, altered steering components, and more.
Prices can range from a few hundred dollars for a 2" suspension or body lift, to several thousands for some of the more advanced off road kits. However, most Jeep owners opt for some very good lift kits to meet their needs usually within the $300 to $900 range for some good quality set-ups (kits only-excludes professional installation costs).
Since you and your passenger's safety will depend on a quality kit with proper installation and alignment, it is important to have the work done as professionally as possible. Most vendors will back up the components and installation if done by a certified installer.
When driving your newly lifted Jeep my best advice is to know your vehicle and your abilities under all driving conditions whether on-pavement or off-road...to be safe.




Jeep Safety Page!

Jeep Tires Page!

Jeep Roll Cage Page!

Jeep Wheels Page!

How To Save Gas Page!

Cheap Jeeps: How and Where to Find Them!