Jeep Tires...The Basics!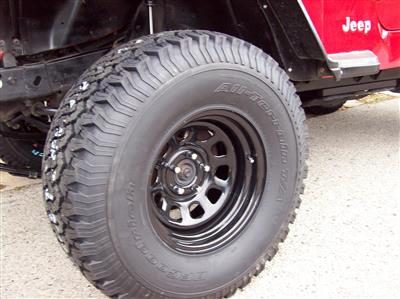 Buying the right Jeep tires can be confusing, right?



I have a 1987 Jeep Comanche Pickup. You have a 1995 Wrangler. She has a 2004 Liberty. They own a late model Grand Cherokee. And, he has a classic old CJ5.
So, how can I find the right tire for my particular vehicle?
Well, you can go down to your local Tire Center and simply ask what the manufacturer recommends for your vehicle and hope they have your size in stock. Simple enough for most street applications, but what if you want a tire designed for snow, mud and/or off-road use?

(Search Snow, Mud and Offroad Tires)
The most important question to ask yourself is "How do I use my Jeep?". If you drive on-pavement 98% of the time you probably don't need tall, big lugged, fat off-road tires. Also, if you live on a farm or do a lot of off-roading you certainly don't need low-profile street tires.
However, there comes into play the impress and dazzle factors where Johnny must have those 40 inch tall tires on his little CJ to look cool, even though Johnny's CJ never leaves the pavement. And that's okay if Johnny can afford the significant cost of such tires, and put up with the annoying whine of those monsters on the concrete.
Also, large off-road tires are often difficult to balance and they tend to "wander" on-pavement which also leads to premature tread wear. Then, depending on how much you drive, you may be replacing those expensive shoes like cheap light bulbs.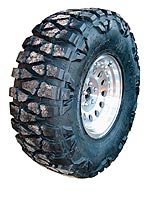 Jeep tires are as varied as the models they ride under. The Grand Cherokee owner is more than likely using his/her Jeep in town and on-pavement most, if not all of the time.
The CJ or Wrangler owner may run the spectrum of use from full-time on-pavement to full-time off-road and/or any mixed use in-between. Since the CJs/Wranglers were designed with strong off-road capabilities they are most often purchased or found wearing some form of multi-use tires
.
Multi-use tires are somewhat forgiving on-pavement and have mild to moderate off-road capabilities, which suits the city commuter who loves those week-end off-road excursions.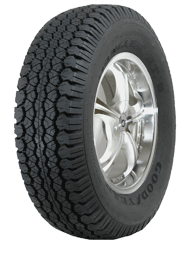 My '87 Comanche Pickup has had street truck tires with basic street treads. I live in Texas, but drive it mostly on-pavement. However, these tires have served me well during bad spells of weather from rain to ice and snow...and currently it sports a more aggressive set of All Terrain tires. Oh, I didn't mention that my Comanche has 4-wheel drive which helps...a lot.
I currently run a set of 33/12.50/15 BF Goodrich All Terrain T/A KO tires on my 1995 Wrangler YJ...and I really like these tires...a lot.


(Take a break here from "Jeep Tires" to look at my Comanche page)


Aside: This is just my opinion, but I have never felt comfortable with the idea of 2-wheel drive Jeeps. Maybe, it's the mystique or the Jeep heritage but a Jeep should have 4-wheel drive. I have nothing against 2-wheel drive Jeeps or their owners, but if you ever have the chance, get a new or used 4x4 model.
Now, I won't discuss Jeep tire choices for all-out off-road racers and enthusiasts
because I figure if you are at that level you already know plenty about tires and what works and what doesn't.
For the uninitiated, just be cautious of tire sales-people trying to sell you more tire than you really need for your Jeep. This has happened recently to my daughter (and I'm sure many of you ladies out there as well). I too have been suckered into the the cool.. big tire.. macho.. hard sell, and the tires wore out in less than 20,000 miles on pavement.
So the bottom line is to do some research before you need to replace your Jeep tires and use reputable dealers to help you with your choices. There are many great discount tire companies. (There are even several good ones on-line.) Check them out with the Better Business Bureau (BBB). Ask friends and relatives for referrals. Shop around. A knowledgeable consumer saves money and makes sound purchases.
Drive safe and enjoy!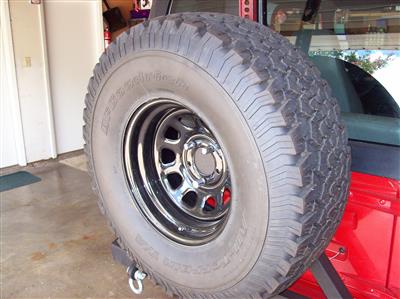 Learn more about all types of tires from a tire expert at Tire Information World by clicking here!




Jeep Comanche Page!

Jeep Roll Cage Page!

Jeep Lifts Page!

Jeep Wheels Page!

Jeep Safety Page!

How To Save Gas Page!

Cheap Jeeps: How and Where to Find Them!



Custom Search
Doing a site search is the easiest way to find specific info on my site
(Return to Top of This Page...Jeep Tires)