The Willys Station Wagon: A Classic?
1946 Willys Jeep Wagon


Seen a whole lot of Willys station wagons rolling down the streets or back roads lately?



Probably not unless you've been to a Willys car show or willys wagon owners club! Even then these pieces of American history have not been as popular with re-builders as say the old CJ's or Military Jeeps.
However, they are gaining in popularity. Some have been restored while others have been upgraded, (modernized), or hot-rodded. Parts are relatively easy to find with the exception of certain models.

Looking to Buy a Willys Wagon?
Learn How these Classics
Stack-up to Other Jeep Models

So, where did these boxy wagons come from?
The Willys station wagon was built from around 1947 as a 2-wheel drive only vehicle until 1949 when the 4-wheel drive models were introduced.
1949 Willys Station Wagon


Note: Before the Willys station wagon Willys-Overland built some of the original "Universal" style Jeeps for the military during World War II.

Willys-Overland produced the Jeep wagons until 1953 when Kaiser bought the company.
Kaiser continued to develop and sell the Willys wagons until 1965 when they were replaced by the Jeep Wagoneer.
These little wagons were the first civilian Jeeps that Willys built differing from the design of their "Universal" styles such as the CJ2, CJ2A, CJ3A, CJ3B, and then the early CJ5. They were initially quite under-powered for their size and weight especially in 4-wheel drive operation. Later models were upgraded with more powerful engines solving the puny power puzzle, although never quite race ready by any means.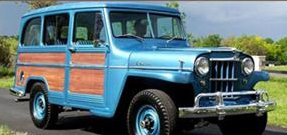 Restored 1960 Willys Jeep Station Wagon


The Willys wagons were advertised to attract those with families and/or to double as a closed van or truck for various hauling jobs. Sounds a lot like an SUV ad today, doesn't it?
My personal take on the old Jeep station wagons produced by Willys-Overland and Kaiser-Willys is that they are really quite cool looking and have great restorability. I like the Jeep look. It retains the tough utilitarian shape and style that Jeep should never lose sight of...ever!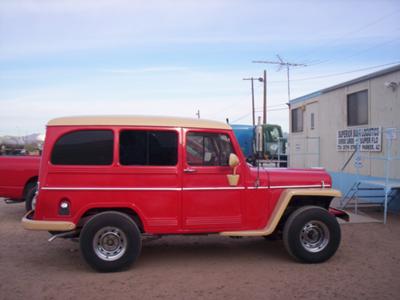 Paul's 1958 Willys Wagon..(Click the Photo for More Info)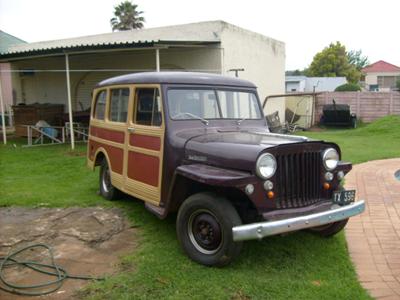 Louis' 1947 Willys Wagon in South Africa...(Click Photo for More Info)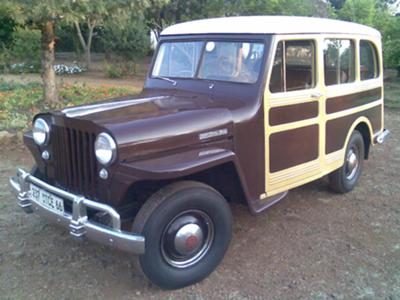 Anith's 1947 Right-hand, 2-wheel drive Willys Wagon...(Click Photo for More Info)



See Jeep Lover Rafael's story and photos of Willys Wagons in Mexico!

Do own a Willys Wagon..or have a story about these great old rigs..then click here!

The Willys Jeep Page!

Jeep Cherokee Page!

Jeep Grand Cherokee Page!

Jeep Forward Control Page!

Cheap Jeeps: How and Where to Get Them!

Jeep Models: A Chronological History Page!




Custom Search
Doing a site search is the easiest way to find specific info on my site