The Army Jeep: Simple Genius!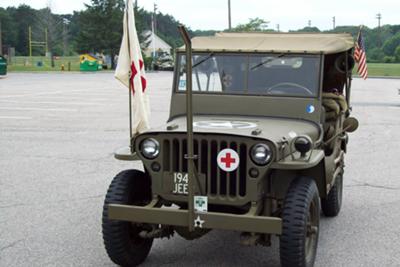 Ethel's Restored '45 Willys MB Army Jeep...Click Photo for More Info


***Do You Own or Have Experience With a Military Jeep?
Tell Us About It. See How...***
The Army Jeep is a great example of our rising to the occasion to create something extraordinary, but functional and versatile, during times of wars and conflicts.



As stated earlier Bantam, Ford and Willys-Overland produced similar models of each other (at least in appearance) with Willys-Overland eventually taking the lead. Many of these little spartan machines made their way to various locations throughout the world before, during and after World War II.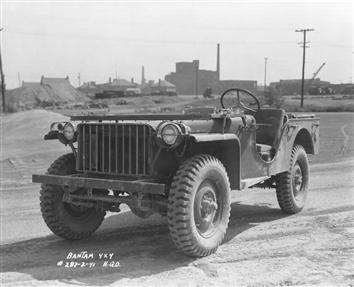 Bantam BRC 40 WWII Jeep


So, how did such a simple little machine provide so many amazing uses...some military and some not? Well, the answer lies in man's blessed imagination and ability to adapt when necessary.
The American and Allied soldiers found this military Jeep an invaluable tool in the fight for freedom, however they also found this little machine (often with some adaptations) able to solve many day-to-day problems.


1942 WWII Combat Ready Jeep


First, here are a few of the Military uses of the Jeep:
Military reconnaissance
VIP transport
Artillery hauler
Mobile mounted machine-gun
Emergency troop ambulance
Rescue vehicle
Mobile rocket launcher
Mobile radio/communication vehicle
GI mover
All-terrain/go anywhere/get-the-job-done workhorse
Other Military and non-Military uses of the Jeep included:
Modified railway vehicle with adapted train wheels
Semi-submersible with special extended engine air intake
Snow and mud adaptations of wheels and tires
And by jacking up the vehicle, the wheels were often used as pulleys to operate tools such as table saws, mixers or any other makeshift rotary device even including a washing machine


Also, from 1942 to 1943 the U.S. Military commissioned the building of up to 12,000 new Amphibious Jeeps with the initial purpose of transporting troops from ship to land and back.
These SEEPS or Sea Jeeps as they were called were built by the GPW Ford division and designated as GPA's with the "A" indicating "Amphibian".
1942 Ford Amphibious GPA Seep


The SEEPS were miserable failures in their intended sea duty purposes with many sinking in moderate to high wave conditions, however they later proved valuable in river crossings.
Only about 5000 SEEPS were actually produced before being discontinued in 1943.


Do You Have A Military Jeep?
Do you own or have experience with Military Jeeps?

The M series Jeeps were built for the military from their birth in 1940..into the 1980's. (MA, MB, GPW, M38, M38A1, M151, M.U.T.T, M170, M715, Recon, Ambulance, Trucks, etc.)

Tell us about your "Military Jeep". Send a photo (up to 4 photos accepted)...and tell the story of your experience with these once war-ready Jeeps.
What Others Have Said!
Click below to see contributions from other visitors to this page...

Watch this brief WW II British video on the Army Jeep!(57 secs.)


Now stand up...put your hand over your heart...and listen to one of the best renditions of our U.S.A. National Anthem...sung by 5 young ladies aged 8 to 13 yrs.


Get a closer look at some wonderful pictures and insights into military Jeeps with Graham Scott's Book: Essential Military Jeep: Willys, Ford & Bantam Models, 1941-45 (Essential Series)
(Click here to see a bit of Korean War era Army Jeep History: 1950 to 1953)



(Click now to see a chrononlogical listing of Jeep Models from the Bantam to the JK!)

Support The Troops Page!

Military Support Websites!

Are You A Patriot?

See the Jeep J8 MPV...the New Military Jeep!



Custom Search
Doing a site search is the easiest way to find specific info on my site
(Return to Top of This Page..Army Jeep)
Home|About|Site Map|Contact Me|What's New?|Disclaimer
Hi, this is Larry..the author of this website. I know you hear a lot about how to build an online business...but nothing compares to what you will see when you click the box below. Proven simply the best!