Big Bend National Park: Jeep Lover's Paradise!
The Big Bend National Park gets it's name from the "big bend" or crook in the Rio Grande River.
This is probably my most enjoyable place to visit...especially in a 4x4.



The 118 miles of the Rio Grande River define the Southern and much of the Eastern and Western borders of the huge park. Of course on the other side of the Rio Grande is the Republic of Mexico and it's states of Chihuahua and Coahuila.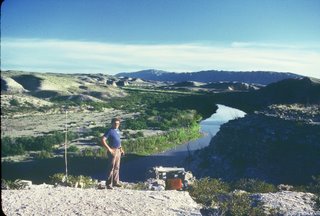 The national park itself is more than 800,000 acres in size, and is even then only a portion of the "Big Bend" region.
Big Bend National Park is approximately 500 miles Southwest of Dallas/Fort Worth and sits in the extreme Southwest part of Texas.
It's remoteness and shear size is one of the main attractions for many (including myself) in that there are never any significant "crowds" or traffic to deal with. That may be explained by the fact that the nearest towns with any significant population (small towns at that) are Marathon (69 miles away) and Alpine (100 miles away).
The park lies in the vast Brewster County which encompasses over 6,200 square miles and has a total population of only around 13,000 people.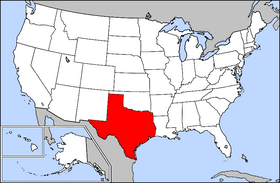 The Big Bend National Park and all of far West Texas (through El Paso) are part of the largest desert in the U.S.A.
The Chihuahuan Desert starts from the North around White Sands, New Mexico (U.S.) and extends South almost to Central Mexico.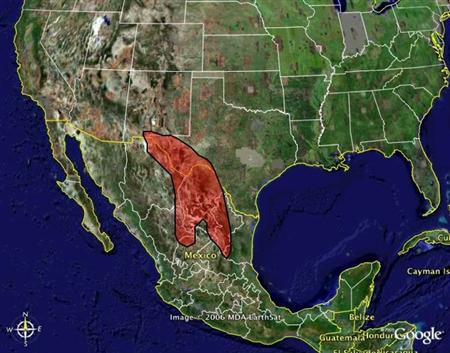 I know that when most people hear the word "desert" they immediately think hot sand and little or no vegetation with water nowhere to be found.
Not true of the Chihuahuan Desert! This is one of the most diverse and beautiful places on earth.
Read More on this Wonderful and Unique Off Road Experience Called the Chihuhuan Desert...Click Here!
And now the fun part!!!
The Big Bend National Park contains mountains (with high country forests), basins, a river, three major canyons, springs (including a hot spring), relics, ruins, unusual geologic formations, hiking and climbing trails, campsites, one hotel (for greenhorns), waterfalls, abundant wildlife and plants, tours, horseback riding, ranger educational shows, an unforgettable canopy of stars at night, and.....
over 150 miles of unpaved roads.
Yes...yes...yes...this is what it's all about for us desert off road Jeep Lovers!
About 45 miles of these unpaved roads are classified as "improved dirt roads", but that can give one a false sense of security because the desert backcountry can get really brutal with a simple quick rain shower washing out much of these so-called "improved" roads.
I know first hand because I've had to re-build portions of these roads just to keep going...even in my 4x4.
Now it really gets interesting!
The remaining 100+ miles of unpaved roads are classified as "backcountry dirt roads" which can be quite primitive and require steady nerves and a good 4x4 Jeep (okay..maybe other 4x4's as well) to get through.
These roads are a kick putting you and your Jeep to the test...but just as much fun is being able to get to portions of the Big Bend National Park that most folks will never see...such as the beautiful Mariscal Canyon at the far Southern tip of the park.


Here's what the Big Bend National Park Service (NPS) has to say about these backroads:
"The extremely rocky terrain and the changing condition of these roads means that even the strongest high clearance four-wheel drive vehicle will face a number of challenges while on these routes: boulders and washes, rough washboard areas, sandy areas that can quickly turn muddy after rain, and an abundance of thorns to threaten your tires. Occupants in a vehicle on these routes will find themselves extremely isolated and, other than whatever shade is provided by your vehicle, exposed to the elements of the Chihuahuan Desert. Because many of these roads are infrequently used and patrolled, you must be prepared to deal with any challenges or emergencies that arise."


You really do need to give the desert a lot of respect, because your life (and those with you) can literally be on the line if you are not prepared.
Once again I can speak from experience. When on a trip to the Big Bend National Park backcountry in my M38A1 Jeep my buddy and I didn't take enough water and fruit when we left the Jeep to climb the backside of Mariscal Canyon. On the way back we both became dehydrated (especially me) as we had exhausted our water/fluid supply hours earlier. I had severe leg cramps and was beginning to see mirages...pools of cool water! We finally got back to the Jeep and fortunately had enough water to rehydrate for the trip back to our campsite.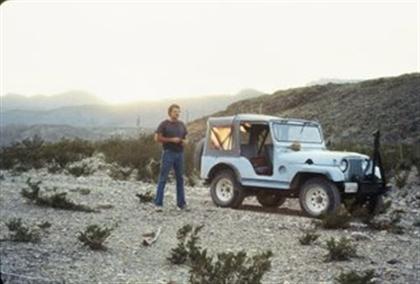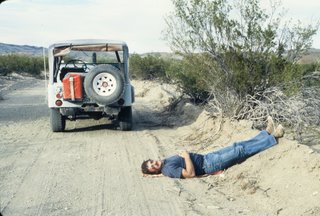 Speaking of campsites...Jeep camping is tremendous fun in the park. I personally like to camp in the Chisos Basin which has an elevation of over a mile high in the mountains and then drive down into the desert to explore. It's cooler at that altitude while relaxing in camp, as the desert can get well past 100 degrees Farenheit during the daytime.
However...Jeep camping near the Rio Grande river (Rio Grande Village) isn't that bad because there is shade to be found from the river basin trees...but it can get steamy (humid) in the hot summertime.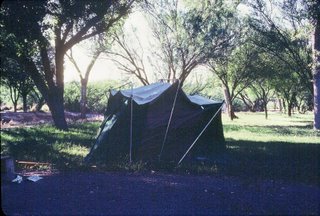 And for the really adventurous among us there are what is referred to as "primitive campsites" throughout the park...which are nothing more than approved designated areas slightly off the dirt roads with no facilities whatsoever. These are truly remote sites for backcountry camping and require that you bring what you need in...and take it all out when you leave...including trash and waste.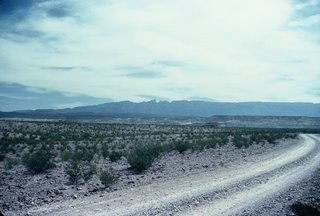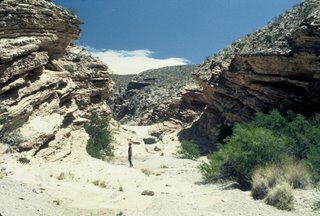 I must admit that I have never attempted to camp at one of these primitive campsites. If you visit the park you may understand why. I'm not into that degree of isolation...and...there are some potentially dangerous critters such as rattlesnakes, scorpions, coyotes, javelinas (peccaries), skunks, tarantulas and occasionally...border bandits (rare, but they do exist). If you need help there is usually no-one for many miles and the Park Rangers may not patrol your location but once a week if that often.
The community campsites are much more secure with the close proximity of other campers and more frequent patrols by the Park Rangers.
Cruising the paved roads in the park after dark can be a really enjoyable adventure by itself because you can drive relatively long distances within the park and not pass another vehicle for hours. Also, you are most likely to see some of the nocturnal wildlife such as the desert fox, owls, jackrabbits, white-tail and mule deer, coyotes, desert antelope and the ever present rattlesnake curled up on the still warm pavement.
There is so much to do and see in the Big Bend National Park and the region in general.
Taking the family sedan can still be a lot of fun in the park and surrounding areas just for taking in the majestic beauty of the Chihuahuan desert region.
But...nothing is quite as exciting for me as seeing the remote and primitive areas of the park from a well equipped off road Jeep or any suitable 4x4. Note: I have taken several non-Jeep 4x4s to the Big Bend National Park, and although they were a bunch of fun...nothing compared to the Jeep for it's ability to take on anything the terrain could throw at it...with ease.
I plan to go back to Big Bend National Park in the near future and will keep you posted with new adventures and pictures.
If you ever get the chance to visit the park, I think you will enjoy the experience as much as I do!
Jeep Safely!
Desert Off Road Videos Page!

Jeeping The Backcountry Page!

Off Road Jeep Essentials You Must Have...Click Here!

Why I Love Jeeps Page!

Jeep Safety Page!

Chihuahuan Desert Page!

For the Official Big Bend National Park website...click here!



Custom Search
Doing a site search is the easiest way to find specific info on my site