The Military Jeep Is Back!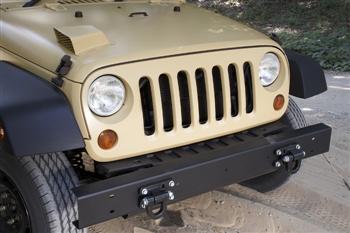 J8 MPV (Front)



A new military Jeep?
Any new Jeep is news...and usually good news at that.



In 2007 Chrysler publicly presented the Jeep J8 MPV (multipurpose vehicle) designed specifically for military and government duty.
Like the original early 1940's Willys and Ford GPW's of World War II the Jeep J8 has a multi-use design with the flexibility to serve many roles just as its unique kin did during days (and wars) past.


The civilian crowd (including yours truly) is drooling at the prospect of having this military version of the current Jeep Wrangler Unlimited 4-door available in some similar form to the public at large. Although not a Military Jeep...the Wrangler Unlimited is the basis for the J8 MPV...see more! Unlike its civilian brother (Wrangler Unlimited), the J8 military Jeep is more capable and versatile to allow for the many various roles it may need to perform...as well as adapt to.
Although the J8 shares the frame platform of the Wrangler Unlimited, the J8 has a reinforced frame and can carry larger payloads as well as having increased towing capacity. This is also due to beefed-up axles, suspension and brakes. Coil springs in the rear are also replaced with heavy duty leaf springs.
One of the neatest components of this service Jeep is the use of a 2.8 L turbo-diesel 4-cylinder engine pumping out 158 h.p. and 295 ft.-lbs of torgue. With the 5 speed automatic transmission and the heavier suspension it has a towing capacity slightly exceeding 7,700 lbs.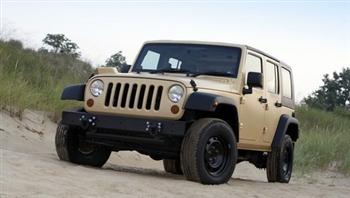 Military Jeep J8 MPV


With its unique air-intake and snorkel system the J8 Jeep diesel is capable of dealing with water crossings up to 30 inches in depth without choking to death. This same system also filters out engine damaging dust, dirt and sand from the most inhospitable environments.
The J8 is not designed as a front line fighting machine, but being the versatile rig that it is...can be fully armor ready if needed.
With numerous body and seating configurations possible the J8 may serve as a command vehicle, ambulance, communications vehicle, reconnaissance rig, cargo transport, troop carrier...and...if needed a gun toting missile firing fighting machine.
J8 MPV Kicking Up Dirt!


Also, just as its previous war relatives the J8 is designed to be transported by air to any location if necessary.
The J8 MPV military Jeep is being built in Egypt and in Israel as a joint venture with Chrysler. The conditions are ideal for testing in desert conditions where much of the world's conflicts are currently taking place.
Just like the space program brought many new and better ideas to the general public, hopefully the Jeep J8 will lead to better off road components and vehicles for the civilian population in the future.
Aren't Jeeps Cool???





Jeep Wrangler Unlimited Page!

Support The Troops Page!

Patriotism Page!

Military Support Websites Page!

Military Army Jeep Page!

Willys Jeep Page!

Jeep VS. Hummer Page!

Jeep JT Concept Pickup Page!



Custom Search
Doing a site search is the easiest way to find specific info on my site