Jeep Essentials: What You Need In The Backcountry!
Definition: Jeep Essentials...Things you WILL need at one time or another to get you and your Jeep into...and out of the wilderness, backcountry or even your neighbors back forty (on a rainy day).
Have you ever experienced any of these "sinking feeling in the pit of your stomach" situations?
Flat tire...no spare...on an uneven surface or in soft silt/sand
Broken radiator or heater hose
Snapped or frayed serpentine or fan belt
Stuck thermostat (closed)
Dead battery
Broken U-joint
Frame deep in sticky mud
Looking at the world sideways or, worse yet, upside down (Jeep rolled over and played dead)
Or...(you fill in the blank here with anything that might hinder your forward motion toward your target goal...such as...getting HOME)
***More of Larry's stupid wisdom..."If it can break...it probably will...on MY Jeep".
That is why being prepared for most common breakdowns and fun-stoppers is essential...as I implied earlier...weren't you listening? Geez!
So listen up...here's a checklist of Jeep Essentials for most common types of problems encountered while off roading, camping, backcountry exploring or just tooling around anywhere you don't have easy access to a wrecker or your handy-dandy mechanic shop.
First and probably the most important tip here is to never go off alone without a friend or group of Jeepers (off roaders) nearby.
Now...the list of Jeep Essentials in no particular order of importance (all carry some significance..some more than others):
Tire Tools
lug wrench (correct size)
puncture repair kit (rubber plugs and cement with tool)
fix-a-flat (various brands in aerosol cans..used to instantly but temporarily fix a slow leak)
hi-lift jack (I like to carry a flat block of wood to use as a base for even more elevation...and to get stability for the jack in soft soil or mud)
replacement valve for a leaky or damaged valve stem
D/C small plug in air pump (or even a bicycle or foot pump will do in a pinch)
Keep Engine Running Spare Parts
extra set of Radiator and Heater hoses with spare clamps
extra serpentine belt or set of fan belts
spare thermostat (may run without a thermostat when removed, but you will still need to have a gasket or gasket goop to replace and seal the housing)
battery jumper cables (of course you need a donor battery to jump yours)
extra ignition wires and emergency wire to fix bad connections
spark plugs (pre-gapped)
spare vacuum hoses
engine oil
extra water for the radiator in case you lose it all from a broken hose (externally mounted Jerry Cans work well for water and extra fuel)
assortment of nuts, bolts, screws and washers for whatever may come loose
Chassis and Suspension Spare Parts
spare tire (inflated and ready to go)
extra u-joints

NOTE: Unless you are doing some serious rock-crawling or jumping gorges at 80 miles per hour you probably won't need more than a couple of u-joints...however, if you are planning to do any of these metal crunching, steel bending activities you may want to carry an onboard welder and pieces of metal stock to do the repairs. Also include a very big hammer and pry bar...as well as spare steering and suspension components.
Jeep Essential Tools
good 3/8 and 1/4 drive socket set (SAE and Metric) with sturdy breaker bar and swivel adapter
set of good screwdrivers of various lengths both flathead and phillips
torx and hex key sets
big ball peened hammer
set of open-end and boxed-end wrenches (SAE and Metric)
vise grips and pliers
diagonal cutters
hack saw
c-clamps
tow strap, heavy rope or chain
lock down removable tool box
Other Jeep Essentials
CB radio in good working order (your cell phone may or may not reach civilization from where you are at the moment)
fire extinguisher in full and working order
flashlight with good batteries
duct tape and electricians tape (may help slow or stop a small leak in a hose)
zip ties, sturdy twine and flexible wire (to tie things down)
rags and hand cleaner (you will get dirty...unless you convince your friend to do all the work)
pocket knife (preferably one of those all-purpose deals with a thousand different gadgets attached)
ice chest full of your favorite beverages (water works best in emergency situations)...and some food because you don't always know how long it might take to fix a particular problem
blankets and warm clothes because with the "Jeep Gremlins" you really don't know how long it might take to get back on the trail
first aid kit (my hands and arms find every sharp protruding object while working on my Jeep)
Jeep Essentials in Special Circumstances (not absolutely necessary)
electric mounted remote operated Winch
tow hooks and/or D-rings (front and rear)
hydraulic tube jack
tow bar (removable)
So there it is...EVERYTHING you will ever need on a trail ride if anything breaks.



Okay...you can probably think of a few more Jeep essentials...and although I have not experienced all of the above breakdowns I have had a number of broken belts, busted radiator/heater hoses, flat tires, and even lost all of my gear lube in a manual transmission (had to use 40 weight motor oil to get me home)...all while many miles from any help.
Fortunately I was prepared with most of the items I have listed above...so that I was able to fix everything right there on the trail in the middle of nowhere.
Hope this will be helpful for your next excursion 'cause you can never be too prepared.
Take Care and Jeep Safely!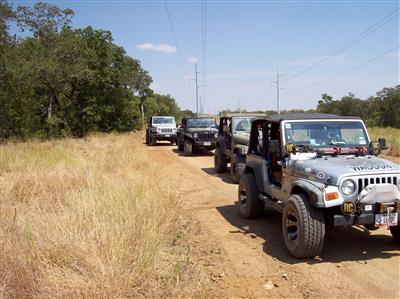 You Now Know Which Essentials...
What is the best Used Jeep for You?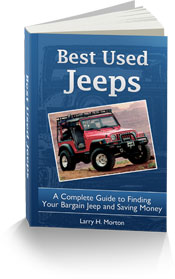 I found many of these Jeep Essentials necessary first hand when off roading the back country of the Big Bend National Park...Learn More...Click Here!

The Chihuahuan Desert Can Be a Test For Any Jeep...Click Here!

Jeeping The Backcountry Page!

Watching These Action Jeep Videos will Give You a Real Perspective of Why You need Spare Parts, Tools and Accessories ...Click Here!

Your Essentials Gear Will Most Definitely Be Appreciated on the Rubicon Trail...Click Here!

Tell Us About Your Jeep or Your Experiences at Your Jeep Page...Click Now!

Driving Safety Tips for anyone who gets behind the wheel!



Custom Search
Doing a site search is the easiest way to find specific info on my site