Jeep Renegade: What a Package!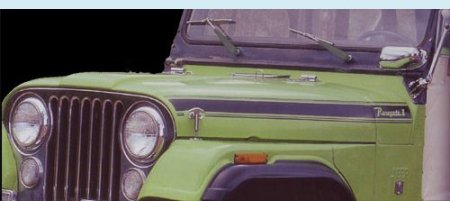 The Jeep Renegade had several incarnations beginning in 1970 as the Renegade I (that's "one") which was a spiffed-up version of the CJ5 utilizing the 225 Buick V6 engine along with other sporty and performance upgrades carried over from the 1960's.





1970 Renegade I Hood Decal
Bright colors and striping decals...bigger
tires
with sporty
wheels
...chromed bumpers and trim...sporty interiors and a generally flashier appearance...all designed to appeal to the younger more trendy crowd emerging from the 60's.
From 1970 through 1973 the Renegade Jeep was offered as a special order option until 1974 when it became a regular option package.
The Renegade II (that's "two") was introduced in 1971 with only a few cosmetic changes including more bright paint options and a better wheel and tire combination.
By 1972 this CJ5 package simply became the "Renegade" as the numbers I and II were dropped. Not only that...the AMC 304 V8 and a stouter drive train were included as well.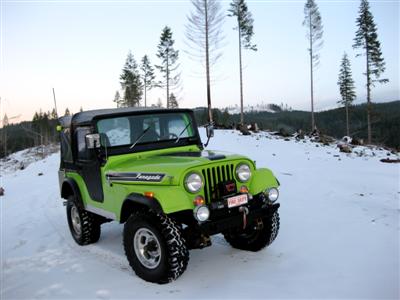 Pete's 1972 CJ5 Jeep Renegade...(click Photo for More Info)


The 1973 Renegade was essentially unchanged from the previous year with only a few cosmetic adjustments.
Although relatively few Renegades were built up until this point...by 1974 the little CJ's were becoming quite popular and AMC began producing more of these hot packages. However, by 1976 the standard V8 was made into an "option only", while the straight 6 cylinder motor became "standard".
When the longer wheelbased CJ7 entered the scene in 1976 it was sold side-by-side with the CJ5 until 1983 when the latter was finally laid to rest..."er" discontinued. (Also, in 1976 you may recall that both CJ's were available with the famous..or infamous Levi's interior which looked like a pair of jeans for upholstery and trim.)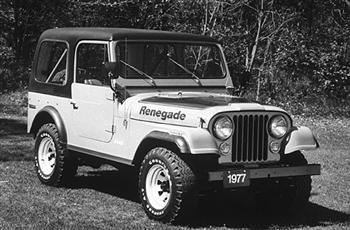 1977 Jeep CJ7 Renegade
The Renegade package continued to be available with the CJ7 until it's replacement by the
Wrangler YJ
in 1987...but was pretty unremarkable beyond the V8...which was dropped as an option around 1981.
Speaking of the Wrangler YJ...from 1991 through 1993 Jeep built a few of these with the "Renegade" name attached to the body. These were simply dressed-up versions of the standard YJ with cool looking ground effects, integrated bumpers and fender moldings...which were neat looking, but not very functional or practical off road...at least in "stock" form.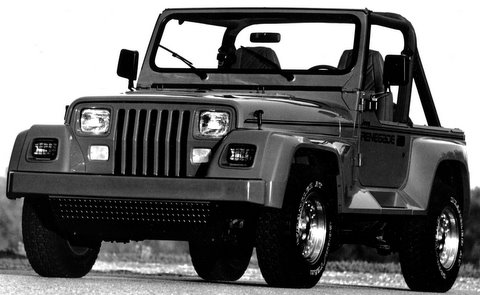 1991 Wrangler YJ Renegade
Maybe it was the Arab oil embargo of 1973 followed by the rash of federal laws on controlling emissions (effectively choking engines and car manufacturers)...that lead some experts to say that the "real" Jeep Renegades existed only with the CJ5's between 1972 and 1974.
I don't know for sure but...
..unique rigs like this don't come along every day..with the power, looks and toughness all in one neat little package...
..and a really cool name...RENEGADE!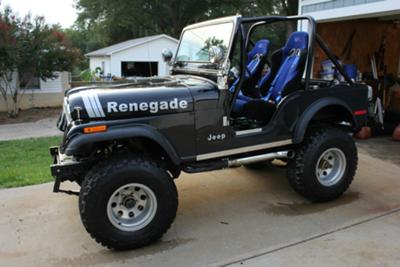 Tim's 1978 Renegade Resto-mod...(Click Photo for More Info)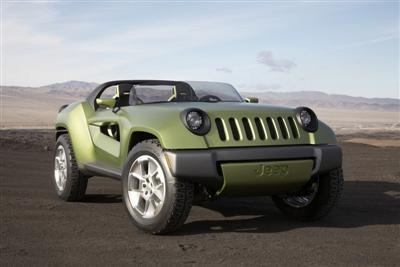 Concept Renegade...2008 Style!
The Jeep Renegade name was first placed on the CJ5 in 1970...See more of the little CJ5 story!
Jeep CJ7 Page!
Concept Jeeps Page!
Jeep Wrangler Page!
Jeep CJ Main Page!
Custom Search
Doing a site search is the easiest way to find specific info on my site
Home|About|Site Map|Contact Me|What's New?|Disclaimer
Hi, this is Larry..the author of this website. I know you hear a lot about how to build an online business...but nothing compares to what you will see when you click the box below. Proven simply the best!