The Korean Korando K9 by SsangYong
1994 Korando K9
Do You Know More
About These Korean Jeeps?
Tell Us by Clicking Here For Details!


So what is this K9? Is it a police dog? Is it kindergarten for those who failed the first year of kindergarten?
I for one had never heard of such a thing...but that's not unusual since for a long time I didn't realize that Jeeps were licensed to be built outside of the U.S.A. by other countries. Well, a while back I received this email from a great guy named John living in Germany. It read as follows: "I am looking to buy a Jeep here in Germany. It is supposed to be a 1994 model. Do you know of any CJ's built in 1994?"



I then unknowingly followed up with this answer: "The last CJ's built in, and for the USA were in 1986. The Wrangler (YJ) was built here from 1987 through 1995 (rectangular headlights). Make sure the Jeep you are looking at is not a Mahindra Jeep from India. Many of those look very much like the American CJ's. Also, the photo link you sent me did not show any specific photos...so I did not see the Jeep you were referring to. Let me know what you find out John".
John then wrote back with viewable photos and the new info he had received stating the following: "Thanks for the quick reply. I have now discovered that this is a SsangYong Korando K9. (The seller returned my call.) He says it was built under license from Jeep from 1987-1996 in Korea. He also said that all of the parts are interchangeable with the CJ-7 (Except the motor/drive train - just a minor detail!) The 2.3 liter 73 hp diesel motor was built under license from Mercedes in Korea. It does look like a CJ, much more so than the Mahindra Jeep!
I have attached a few photos for your reference. I also found some photos of a 1989 model. This owner even put 'Jeep' lettering on his!
By the way, the K9 was rated to carry nine people! There was also a four seat soft top version, which looks pretty much identical to a CJ-7. Thanks, John"
Needless to say I was excited to learn even more about the extended international history of the famous Jeep and thought others might be interested as well.
I have included John's K9 photos below and also added some links for more information about the SsangYong Motor Company and the Korando K9.
Enjoy!


1989 K9 ("Jeep" letters added)
1989 K9 Rearview
1994 K9
1994 K9 Rearview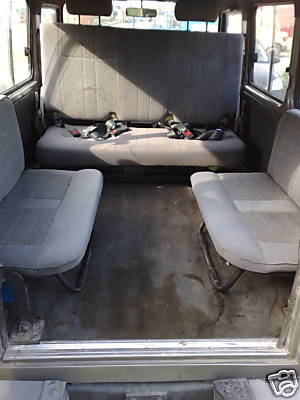 1994 K9 Rear Cargo/Passenger Area
Room for 9! You'd have to go to the Commander or Grand Cherokee here to even come close to that capacity.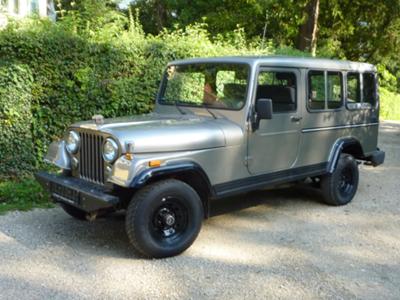 Did Peter purchase John's 1994 Korando K9 above?...click photo to find out!


---
What Do You Know About These Korean Jeeps?
Have you had any experience with the K9 or any version of the SsangYong Motor Company Jeeps?

If you have then:



describe the vehicle in as much detail as possible

tell us what you know about these vehicles and your specific personal experience(s)

tell us your impressions good, bad or indifferent

include a photo of the vehicle you mentioned (up to 4 photos accepted).

Thanks
See What Other Have Said!
Click below to see contributions from other visitors to this page...

See an example of the Short version of the K9 which looks a lot like the CJ7 and Wrangler by clicking here.


Custom Search
Doing a site search is the easiest way to find specific info on my site
(Return to Top of this Page...The Korando K9))