Jeep Speed: Drag Racing Videos!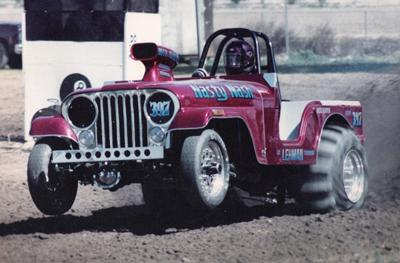 The words Jeep speed, drag racing and videos conjure up strange mental pictures of various little CJ's, Wranglers and Cherokees puttering down the drag strip pitted against Mustang Cobras, Corvettes and alcohol burning dragsters.



Drag racing has not been a sport where Jeeps typically shine. However, 4x4 racing on straight line tracks has become very popular and highly competitive with Jeeps drag racing on (in) sand, mud, dirt, water and yes...even asphalt surfaces.
As the following drag racing videos will illustrate Jeeps can perform well in stock trim, 2- and 4-wheel drive, or with as much power as owners have imagination to create.
Below you will see a variety of select amateur videos of friends racing friends in stock Jeeps to professional racers piloting Jeeps...in the dirt, through the mud, in deep sand, through watery soup, up sandy hills and on sanctioned all-out paved Drag strips.
Some of the rigs in these Jeep Speed videos are professionally built race rods which are literally only shells of the original vehicles.
Others are highly modified for a specific purpose which is to perform in tough, almost impossible conditions like mud, water, sand and/or dirt...yet trying to go as F-A-S-T as possible. These Jeeps may have large tires with huge lugs and even "paddle" tread. Engines are usually modified for SPEED and quick acceleration.
All have one goal...and that is to get to the finish line first and in the least amount of time.
Once again the versatility and adaptability of the Jeep is incredible.
Enjoy!



Jeep Drag Racing Videos
(1) Not your everyday Jeep! (52 secs.)


(2) Great Jeep straight line dirt racing! (55 secs.)


(3) Wheelstanding DJ Postal Jeep? No way...right? (3 mins. 48 secs.)


(4) Two Wranglers Drag Racing in the Mud! (22 secs.)


(5) SRT8 Grand Cherokee Drag Race! (27 secs.)


(6) Two Cherokee XJ's at the Drag Strip. Slow but Steady! (1 min. 48 secs.)


(7) Drag Racing Mud Jeep! (26 secs.)







How about two hemi V8's for Jeep speed?...I would love to locate a video of this Hurricane Concept Jeep racing anything...anywhere!

Extreme Jeep Videos of Icelandic hillclimbs...water crossings...and everything in between...Click here!

Extreme Jeep Rock Crawling Videos...Click here!

Wild Videos of Jeeps in the Mud, Water and More...Click here!

Desert Off Road Jeep action videos from racing to cruising...Click here!

Unusual Modified Jeeps Videos...Click here!

Jeep Crash Videos...Click here!

Jeep Wagoneer Full Size Jeep Videos...Click here!