Modified Jeeps: Wild Jeep Videos!
What are Modified Jeeps?
Maybe a better question is..."what are "unmodified" Jeeps?"



It seems that we Jeep owners can't just be satisfied with our rigs in...dare I say...stock/original condition.
Have you seen many Jeeps anywhere that have not been modified with bigger tires, lift kits, custom wheels, racks, armor, driving lights, winches, custom bumpers...or...and the list can go on and on?
Maybe some of the new Jeeps right off the showroom floor will remain stock such as the Commanders, Patriots, Compasses, and some Grand Cherokees.
However, it's really hard to leave a Wrangler alone...even if it has most of the factory options.

The Jeep Wrangler Rubicon is the top of the line for modified Jeeps straight from the factory!

Modifying Jeeps is a big part of the fun of owning a Jeep in the first place. It's a lot like what hot rodders do with cars...make 'em better!
And what about that Jeep performance factor? Most Jeeps from the factory are under-powered and need at least some basic engine modifications such as headers, tuned exhaust and added air intake for starters.
A modified Jeep can be as simple as having a few engine tweaks as just mentioned...to extreme Monster Jeeps where the body may be the only original Jeep part. A Monster Jeep can also be any Jeep with really extreme modifications.
The following Jeep videos were selected for their presentation of unique and unusual Jeeps doing wild and crazy things...as well as their creative modifications and abilities.
So sit back and enjoy...and if you know of any other great Jeep videos, and they are public domain, go to my Action Jeep Videos page and leave me a message (form near the bottom). Thanks!




Modified (and Unusual) Jeep Videos!
(1) Jeep doing a sustained Wheelie? Maybe it's the big engine in the back seat! (1 min. 50 secs.)


(2) Jeep Tires Afire...Such a Waste! (33 secs.)


(3) Car Crushing Jeep! (53 secs.)


(4) Are These Big Tires Or What? (24 secs.)


(5) Old Willys Climbs a Telephone Pole...Backwards! (49 secs.)


(6) The Panther WaterCar while technically not a Jeep it has a Jeep facade. Fast in the water for an amphibious car. (4 mins. 49 secs.)


Rick Keith's CJ5 Sand Dragster...Click Photo for More!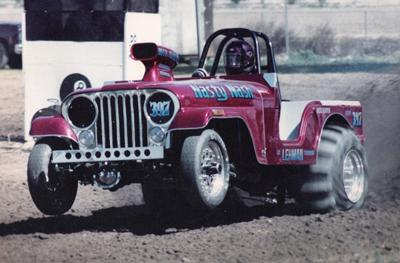 Jeep Wrangler Rubicon Page!

Action Jeep Videos Page!

Extreme Jeep Videos of Icelandic Hillclimbs...Water Crossings...and everything in between...click here!

Extreme Rock Crawling Videos...click here!

Wild Videos of Jeeps In Mud, Water and more...click here!

Desert Off Road Jeep Action Videos from Racing to Cruising...click here!

Jeep Speed Drag Racing Videos...Click here!

Jeep Crash Videos...Click here!

Jeep Wagoneer Full Size Jeep Videos...Click here!